At NCEC we promote a concept of social enterprise which includes the most marginalised, and are happy to speak to anyone about the NCEC experience. For those seeking in depth support from us, we offer the following fee for service packages: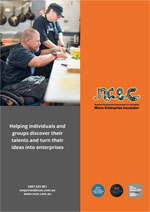 click to view our brochure
Hands on Training
Practical individualised training for people with a disability in one of our award winning social enterprises. Participants develop skills and confidence by participating in a real work setting and receive a detailed strengths based assessment to assist their progression into employment.
Micro Enterprise Incubator
NCEC has supported a number of individuals to develop their own successful small businesses harnessing their skills and abilities as well as local networks of paid and unpaid supporters. We were finalists in the 2016 Australian Social Enterprise Awards for our work in this field.  Participants of this program engage a trainer to work with them on time limited skill and enterprise development.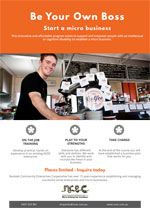 Social Enterprise and Cooperative Enterprise Consultancy
NCEC have exstensive experience supporting the development of new social enterprises including cooperatives and will consider approaches for consultative work with communities and organisations seeking to develop their own initiatives. Organisations we have previously worked with include, Sandgate and Bracken Ridge Community Centre (SANDBAG), Australian Red Cross, Multicultural Development Association (MDA ltd) and Caboolture Community Work Cooperative.
Speaking Engagements and Tours
As an award winning social enterprise NCEC is often asked to speak at conferences and training events. These engagements are managed by the Nundah Cooperators speaking group who will consider all requests. Educational tours of our Co-operative for primary secondary and tertiary students are also available.
Contact the Co-ordinator Richard Warner on enquiries@ncec.com.au for more information.
Publications
Our e-book 'Participation and Production: a Resource for Community Enterprise' is available at no charge in three formats:
As an Apple 'i-book' (i-pad only) available by downloading the free i-books app and clicking the following link to the i-tunes bookstore: Participation and Production i-book
As a high quality printable portable document file (PDF) available by clicking this button:

Participation and Production PDF

As a view-able document online @ Scribd:Participation and Production@Scribd (N.B. enable your pop-up blocker if you want to avoid advertisements).
Description: This e-book tells the story of how a group of Brisbane's most marginalised citizens created their own successful community enterprise. The publication has been kindly supported through a Brisbane City Council "Access and Inclusion Partnership". It will be of interest to anyone wanting to understand, support and develop a concept of community enterprise which includes the most marginalised.
Liking = Donating: If you like our free e-book and want to 'pay forward' the good-will, we suggest you donate a coffee or meal as a part of our 'shout a suspended' coffee campaign; where free coffees and meals are provided via our cafe to local residents in need. http://www.givenow.com.au/ncec
NCEC and the Cooperative Movement
NCEC is a registered cooperative in QLD and part of an international movement of member owned enterprises. We were recently featured in this report by the Business Council of Cooperative and Mutuals. A recommended read if you are interested in stakeholder owned services: http://www.getmutual.coop/case_study/nundah-community-enterprise-cooperative/