At NCEC we promote a concept of social enterprise which includes the most marginalised & are happy to speak to anyone about our experience.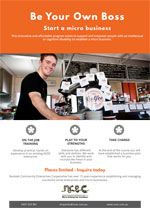 For those seeking in depth support from us, we offer the following fee for service packages (please note fees accurate as of 2017 – up to date fee schedule will be provided upon inquiry):
Micro Enterprise Incubator
NCEC has supported a number of individuals to develop their own successful small businesses harnessing their skills and abilities as well as local networks of paid and unpaid supporters. We were finalists in the 2016 Australian Social Enterprise Awards for our work in this field.  Participants of this program engage a trainer to work with them on time limited skill and enterprise development.
Social Enterprise Consultancy
NCEC have exstensive experience supporting the development of new social enterprises – including cooperatives – and will consider approaches for consultative work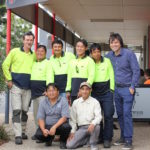 with communities seeking to develop their own initiatives. NCEC consultancy (including consultant staff with disabilities) have supported the development of a number of new social enterprises independent of NCEC including the Mountain Mowing Men (pictured).
Organisations we have previously worked with include, Sandgate and Bracken Ridge Community Centre (SANDBAG), Australian Red Cro
ss, Multicultural Australia and Caboolture Community Work Cooperative. Fees for consultation are $120.00 per hour + GST. (Where we have capacity to take on pro-bono we will consider this for unfunded community organisations).
Speaking Engagements and Visits/Tours
As an award winning social enterprise NCEC is often asked to speak at conferences and training events. These engagements are managed by the "Nundah Cooperators" speakers group (a group of NCEC members who identify as having disabilities)  who will consider all requests. Educational tours of our Co-operative for primary secondary and tertiary students are also available.
Contact the Co-ordinator Richard Warner on enquiries@ncec.com.au for more information.