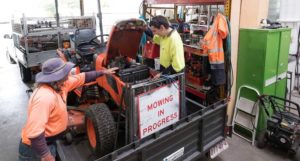 Nundah Community Enterprises Co-operative (NCEC or Nundah Co-op) was formed in 1998 to create sustainable employment and training opportunities for people with Mental Illness, Learning Difficulty or Intellectual Disability.
Supporting People With Meaningful Work
We are a not-for-profit organisation that currently trains and engages more than 20 people in meaningful work opportunities through our two businesses: Espresso Train Café & Catering and NCEC Parks & Maintenance. The people we support have struggled to find their place in the current economic structure. They're keen to work, but due to the pace they learn at, employers are often unwilling to support them.
The Nundah Co-op was thrilled to be named Australia's best small social enterprise in 2015 and has been either a finalist or winner if every year of the awards.


Our Partners
We would not be here today without key partners and supporters including: Brisbane City Council, Community Living Association, Department and Communities, Social Ventures Australia, Westpac Foundation and Foresters Community Finance. Whilst we derive the bulk of our income (approximately 80%) from trade, we would not be in this position today without our partners previous offers of business, support and investment.
Triple Bottom Line
NCEC believes that social and environmental responsibility can align with the financial sustainability of a business. Accordingly the co-op seeks to make business decisions which support an inclusive and just community as well as a sustainable environment. Examples include: our support of disadvantaged workers, sourcing goods (where we can) seasonally and directly from local farmers and an investment in P.V. solar which sees NCEC produce more than 2/3 of the electricity it uses!
Recent Reportage